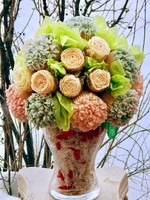 Amazing Cupcake Bouquet's in Calgary
You don't need to waste your time and money looking for a flower bouquet that dies after a couple of days. Switch to Sweet Bouquet, a unique and delicious cupcake bouquet shop that creates edible cupcake bouquets that resemble beautiful flowers!

Amaze the one you love, your family and friends, or your guests at your upcoming event with a beautiful, freshly baked and frosted cupcake bouquet from Sweet Bouquet. Not only that, we are offering FREE delivery right to your door.
Customize Yours!
Why choose us?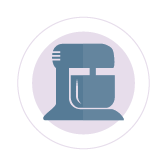 High Quality Ingredients
We use only high quality ingredients, and add a lot of love that you can feel with every cupcake.
Award Winning
Sweet Bouquet is a proud winner of the 2014 first place prize in the Calgary Sugar Competition.
Licensed & AHS Approved
Sweet Bouquet is licensed from the City of Calgary, approved by AHS, and has food safety and handling certificates.